The Best First Aid kit for everyone.
Wellness Kit contains:
12 Super Biomagnets in 3 sizes for all the comprehensive Advanced Therapy Protocols.
2 Water Jar Energizers for constant supply of healthy Bio-Energized water.
A bottle of our liquid Activated Oxygen for increased energy and external emergencies [such as burns, cuts, poison ivy/oak].
The Kit contains the new edition of the popular Conquering Pain Therapy Book and the complete Pictorial Guide to the Advanced Therapies and step by step therapy protocols to support: pain relief, regenerate nerves, soft and hard tissue and help resolve over 180 simple to complex conditions such as MS or Lupus, etc.
Healing A - Z Health Conditions
Bio-Energized Structured Water Jar Energizers
Bio-Energized Structured Water is important for health and tastes great. Case studies and research show energized water provides increased cellular nutrition and detoxification resulting in greater vitality, health and increased immune functions for better healing. We offer Personal Set & Kitchen Energizers for you to choose from or both.
Prevent Premature Aging
Hydrate the Skin Better
Helps Reduce Wrinkles
Helps Reduce Free Radicals
Hydrate the Cells Better
Improve Organ Functions Improve
Memory Functions
Increase Detoxification
Helps to Decrease Sodium Levels
Improve Cellular Transport EfficiencyImprove Alkalinity & Reduce Acidosis
Benefits for Bio-Energized Structured Water Jar Energizers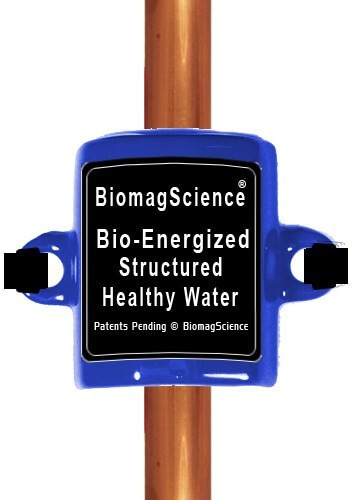 BiomagScience Structured Bio-Energized Structured Water – Cold Water Line Energizer
Case studies and research show that Bio-Energized Structured Water supports & amplifies health, vitality and the healing powers of the body.


• Prevent Premature Aging • Memory Functions
• Hydrate the Skin Better • Increase Detoxification
• Helps Reduce Wrinkles • Helps to Decrease Sodium Levels
• Helps Reduce Free Radicals • Improve Cellular Transport Efficiency• Hydrate the Cells Better • Improve Alkalinity & Reduce Acidosis• Improve Organ Functions Improve • Helps Reduce Chemicals & Heavy Metals Build-up